ABC and Blink TV congratulate Isabella Clarke on placing an extraordinary 3rd at the Junior Eurovision Song Contest 2017 (JESC), following an amazing performance of her catchy pop anthem Speak Up, at last night's event at the Tbilisi Sports Palace, Georgia, behind Russia and Georgia.
The Melbourne singing sensation wowed the judges, jury and the international audience during last night's event.
Isabella hit all the right notes to come 3rd out of 16 competing countries. This is the highest place Australia has received since joining the JESC in 2015.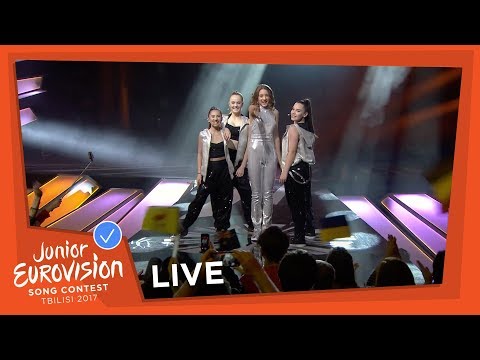 "We congratulate Isabella on her extraordinary achievement – she should be extremely proud of her performance and her outstanding result," says Michael Carrington, Head of ABC Children's Television. "Up against some amazing competitors, she delivered a spectacular performance. We thank all the Australians who supported Isabella by voting online, and we wish Isabella all the best for her future singing endeavours."
Director of Blink TV, Paul Clarke said "Congratulations to all the countries who took part in Junior Eurovision. It is a big stage to perform on, and we are of course especially proud of Isabella coming 3rd. Her energy, focus and amazing vocals really made an impact with the audience. Congratulations also to her 3 backing vocalists who travelled from Melbourne to support her, Mia Papazis, Tiana Carbone and Jessie Eilers."